Our rooms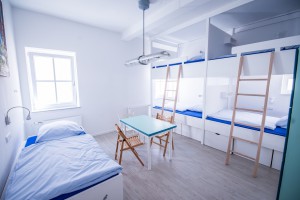 Our tiny hostel is located in a cozy courtyard and offers two rooms.
Room 1 is a double room with plenty of space and its own bathroom. A folding bed on the wall also offers a spot for a third person to sleep.
Room 2 is  a multi-bed room with a bathroom in the hall. Four XL bunk beds and one folding bed on the wall also offer space for sweet dreams.
Our prices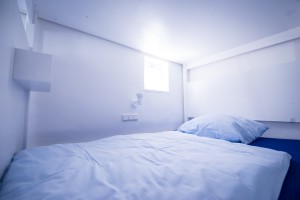 Room 1 is available as a double room for 60 EUR, as a single for 48 EUR. For three people, the room costs 80 EUR.
Room 2 is available at 25 EUR per person. If you share an XL bunk, it only costs 20 EUR per person. Ask us about group rates.
Our philosophy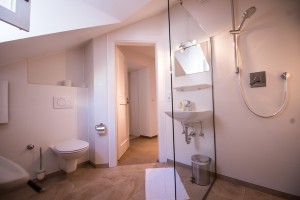 When we're not at home or staying with friends, we want it simple and without frilly frou-frou; clean but not sterile; cozy without pseudo-luxury. We like cuddle-friendly, comfy beds. We want to both relax and plan new adventures and excursions at once. We enjoy friendly hosts who make us feel welcome. We don't want perfection, but appreciate an honest effort to make us feel at home.
We've got high standards as guests, but are friendly too, and this is just the sort of hosts we'd like to be. If you don't want to feel exactly like at home (otherwise you wouldn't have left), but rather as well-off and well cared for as if you were at home, then Frau Dunschn is delighted (and loves you, too).