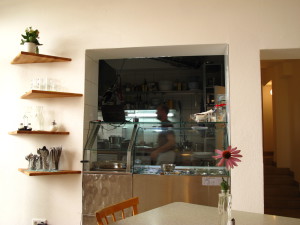 In our cozy, little diner, we serve tasty vegan meals.

Regular items on the menu include vegan versions of fast-food classics like curried sausage (the Berlin "Currywurst") and burgers, as well as our homemade falafel with hummus. We also offer vegan cake, as well as a large variety of fresh salads (natch!).
In addition, we offer daily specials including soups, main dishes, and sometimes also special desserts.
Soon, our regular menu of food and drinks will be available online.
Our philosophy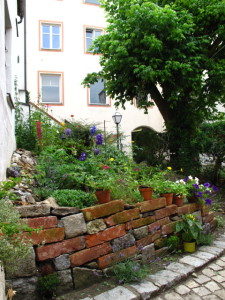 Veggies, pasta, fries, burgers, dumplings (big and small), soups, loafs, pan-fried foods, sausages, sandwiches, cakes − spread, grilled, boiled, marinated, snipped, chopped, ground, sliced and diced, and all in living color.
You see what you get, from the first ingredients to the finished plate because we want to know what's inside and how it was made. So you can know, too. That's why we inevitably end up with organic, regional, and fairly produced ingredients and dishes that we make ourselves, as far as our time and talents allow.
Only the treats we find truly tasty land on your plate, and though it's all a matter of taste, we hope ours meets yours, full-on bullseye!